​
​Recent developments in the coronavirus pandemic have resulted in many companies asking their staff to work remotely. Working from home can be daunting especially for those who have never had to do this before.
​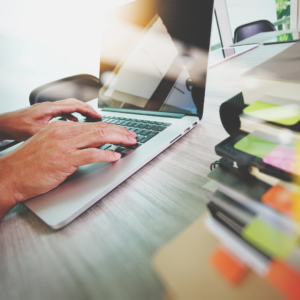 For the past year, I have been working from home one day a week, and I quickly learned the importance of having a set routine and being fully prepared for your day. It is easy to become distracted by your home comforts, however, I have a number of tips that I follow to ensure my productivity levels don't drop:
Rise and shine one hour before you are due to start work – Staying in your PJ's is very tempting, but you need to start your day as if you are working as normal. Have your shower, get dressed (hugely important!), eat your brekkie and have a cup of tea/coffee. Do everything as you normally would do on a day that you would go into the office. This helps you get into your work routine.

Have a designated area you will work from every day – We don't work from bed or with the laptop on our knees on a normal day, so you shouldn't do this at home either! Setting up a workspace is crucial for productivity levels. I have a little desk set up in the spare room and the night before I am due to work from home, I prepare it so that it's as if I'm walking into the office the next morning. No packing up your laptop and unpacking it every morning.

To-do lists – What's the plan for the day? What do you need to achieve and complete? This is even more important to be clear on when you are out of your normal routine. Schedule in breaks, team catch-ups, and any calls you need to make. Planning your day will result in higher productivity levels!

Lunch – Have your bits prepared from the night before as if you were in the office. This will save you time and stop you from rummaging through your fridge. No harm in having a few healthy snacks prepared, too!

Leave the house for a walk – On your lunch break get out of the house and go for fresh air. This is a massive help as your home is where you'll now be spending the entire day. It is important to get a break from your surroundings throughout the working day to keep you feeling fresh and energised!

Exile any family members from your workspace/room (where possible!) – You don't bring friends and family to your office, so treat this the same way. Quick conversations and cups of tea will result in distractions. Meet them at lunchtime instead as you would on a day you're in the office!






Keep in contact with your team – I always touch base regularly with my manager and colleagues on days that I'm working from home. If you're a manager, encourage collaboration among everyone and lead by example. Check in with a phone call or via Skype for Business to ensure no one has missed out on any company news or developments. This helps to prioritise tasks and understand what the rest of the team is working on.


To-do list before you finish for the next day – Before you make the short walk from your home workspace to the couch, make a to-do list of items to complete for the next day. When you arrive at your desk the next morning, you'll be ready to go again!
​
For more tips on productivity and working from home, I recommend contacting Niamh Brady, a productivity coach who recently spoke to the Collins McNicholas team in Croke Park. Niamh is an expert in this field and wrote this blog on designing the life you love.