​
Highly-skilled professionals have transformed their careers and lives by moving to Kerry in search of better quality of life, support network and career opportunities – survey shows
Quality of life and support network two of top reasons why people relocated to Kerry

Over half now travel to work in twenty minutes or less

89% are happy with their move to the region
Quality of life, being closer to family and friends and a safer environment. These are the three top determining factors for people who have relocated to Kerry, according to a survey released today (Tuesday, March 10).
The Kerry Relocation Survey carried out by National Recruitment & HR Services Group Collins McNicholas, in conjunction with IDA Ireland, KerrySciTechand Kerry County Council, was launched this morning in Ballygarry House Hotel, Tralee, Co Kerry.
Collins McNicholas surveyed over 250 professionals who have recently relocated to Kerry. The report includes responses from those who relocated from 15 different countries including Australia, Canada, United States, Portugal, Spain, Poland and South Africa.
Over half (51pc) of those surveyed said they now travel to work in 20 minutes or less – a commute time that would be envied by most working professionals.
It might surprise some, that respondents in many cases actually moved to the Kerry region to advance their career while at the same time benefitting from a new and improved quality of life that the Kingdom county can offer. In fact, 83% of respondents moved into a similar or more senior role than the one they held before moving, which shows the opportunities that exist in Co Kerry.
Four out of five (88pc) of those who responded are degree qualified or above and 71pc of respondents have 6 or more years' industry experience, which shows Kerry is attracting highly qualified and experienced professionals.
​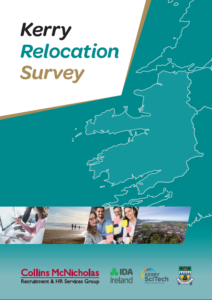 Some of the other key findings of the survey were:
74% now enjoy a similar or lower cost of living, with 79% experiencing a similar or increased level of disposable income

89% were satisfied or very satisfied with their move to Kerry

38% of those who moved to Kerry in the last five years were from overseas.
​
Kerry is fast becoming a hub for the science, technology, and engineering sectors, with an ever-growing demand for talent across the pharmaceutical, manufacturing, financial services and technology industries in the region. In May 2019, JRI America announced the expansion of its technology centre in Tralee along with another 100 new jobs. Most recently, Fexco opened a €21 million research and development facility in Killorglin and is set to create a further 305 jobs by 2024.
​
Rory Walsh, Collins McNicholas Associate Director – Munster, said:
"It's no surprise that Kerry is attracting such a high calibre of talent given the quality of life on offer in the region. It is fantastic to see careers progressing and disposable income increasing in a region with a fantastic quality of life, combining to give a work-life balance that is being craved by so many across Ireland in 2020."
Ray O'Connor, South West Region Manager, IDA Ireland, said:
"This survey confirms the offering of County Kerry – fulfilling and challenging careers in a location that offers an exceptional and affordable work-life balance. IDA Ireland has a well-established enterprise base in County Kerry and continues to attract new, highly-innovative and dynamic companies into the region alongside exciting local companies – all offering superb employment in a world class location."
John Gannon, Chairperson, Kerry SciTech, said:
"The results show that there are terrific careers for highly qualified candidates who choose to relocate to the Kerry region. The rate at which many of our KerrySciTech members across all sized companies are growing is testimony to the region's ability to build global success stories from this part of Ireland and provides confidence to candidates who choose to forge a career in the county. This coupled with a very attractive lifestyle and lower cost of living offering is a winning combination. Once people move here, it doesn't take long for them to realise the breadth of possibilities on their doorstep in Kerry."
​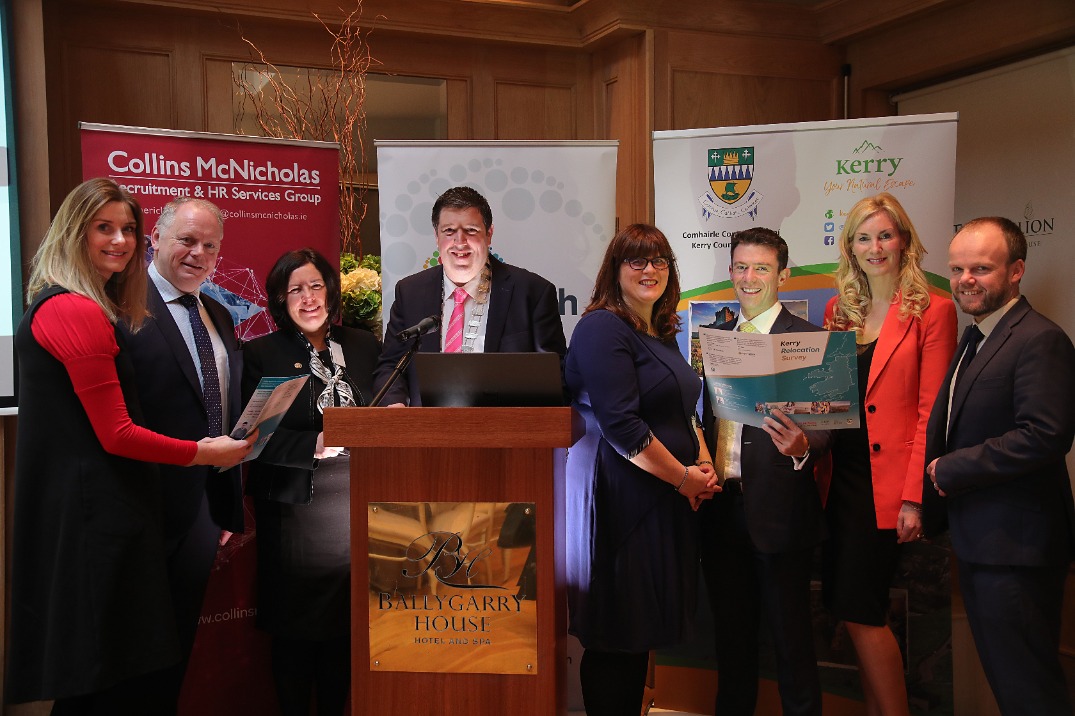 ​
​
Meanwhile, Kerry County Council has today published a comprehensive audit of the skills base which exists in the county. The online survey, which received 500 responses, was designed to identify the range of skills, education and experience of people living and working in the county and to ensure that the local skills set can be used to highlight the attractiveness of Kerry as a place in which to live, work and do business.
Some of the key findings:
Quality of life, closeness to family, a high disposable income and a safe environment were key attractions for those relocating to the county.

Kerry has a highly educated workforce

93% of respondents have a third-level education

55% have a second language

Kerry is home to a modern, vibrant, adaptable workforce
The information will enable agencies in Kerry to target employment and investment and to showcase what the county has offer existing and potential employers.
Moira Murrell, Chief Executive, Kerry County Council, said:
"This has been a very productive and worthwhile exercise and has equipped us here in Kerry with an important array of data and information which can be applied in many ways. These surveys are a very important asset in continuing the work being done by Kerry County Council and other agencies in promoting the county nationally and internationally as an ideal place to live, work and do business."
For more information or to arrange interviews, contact Rory Walshat Collins McNicholas on +353 87 1269567
​

Rory Walsh

​




​Associate Director | Munster
​