​For our North West Relocation Survey, we talked to Darren Crocock, who relocated from Kildare.
Darren is now Project Engineer at Abbott in Donegal.
​
"Originally I'm from Sligo, but for the past 18 years I have been working in Kildare, on the M4 route just outside Dublin.
Our family always wanted to move to the North West to enjoy a more relaxed lifestyle. When my company at the time, announced a reorganisation, we took it as an opportunity to do just that.
The cost of living is very high in parts of Kildare, so we were living in Kinnegad, Co Westmeath; I was commuting one hour each way to work.
Although my wife is from Kildare, she loves the beaches and the easy-going life in the North West, so I started actively looking for employment in the area. What I found was that there were ample career opportunities available across the region.
My wife and two children moved here about four months before me. I continued working in Kildare, living in Kinnegad and then commuting to Sligo at the weekends.
During one of my visits to Sligo, I attended a career fair at the Institute of Technology Sligo. The representation from industries at the event was fantastic, all demonstrating the excellent opportunities in the area. When I spoke to my now colleagues from Abbott's diabetes care facility in Donegal, I was drawn to their journey in helping to improve the lives of millions of people around the world. I applied and interviewed for a suitable position and received the call back with a job offer immediately after!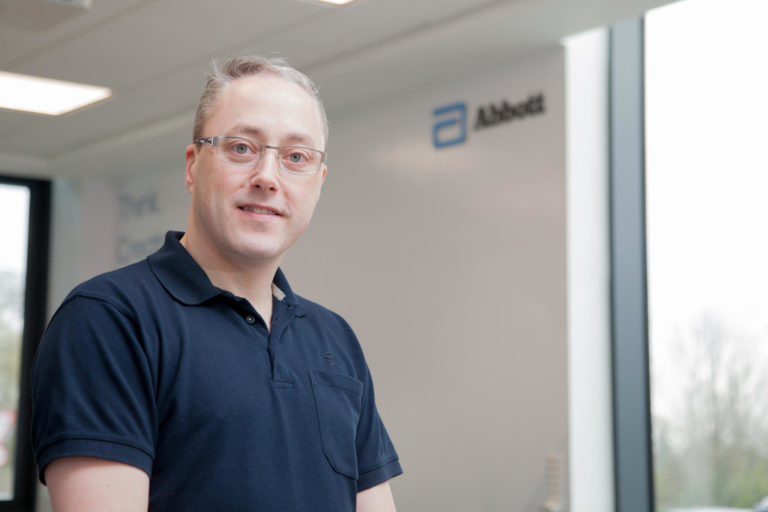 Working in Abbott is great! I felt welcome from my first day in Donegal as the people are so friendly and there is a real collaborative culture. Abbott provides me with new challenges, new opportunities, and knowing my work makes a lasting impact on people's health every day is something I am very proud to be part of. It's exciting to be part of a company that makes life-changing technology to help people with diabetes.
Abbott provides a great opportunity to develop and build your career and it's a really exciting time to be part of the organisation.
My commute is now 15 minutes less each way, as there's a lot less traffic than in the Dublin region. It's an easier drive and I have the added benefit of the beautiful scenery in the North West.
I regularly meet my wife and kids at Streedagh Beach on my way home from work. It's great to be able to get out and enjoy the beautiful beaches and scenery in the North West.
My family is a lot happier here; the kids are involved in dancing and local sports. They've settled in well and love to explore the surrounding nature. We are so happy we made the decision to move."
​
​
Collins McNicholas Recruitment & HR Services Group would like to thank Alex Lustig for writing this guest blog as part of our North West Relocation blog series on living and working in Sligo, Leitrim and Donegal.
For job opportunities in the North West, click HERE.