​

First two original Sligo employees now directors of the company

Staff numbers more than doubled in Sligo over the

past

five years

Continued growth predicted in Sligo by owners as outlook positive
Collins McNicholas, one of Ireland's most respected and long-established recruitment and HR companies, is celebrating 20 years in Sligo.
After starting with two staff in 1998, the company now employs 17 people in Sligo alone and the first two original employees are now co-owners of the company. Many of the staff who work at the Sligo office are graduates from IT Sligo or have returned to the region to live and work in the last number of years.
One such person is Niamh Cregg who returned from Dublin to the North West two years ago to work with Collins McNicholas. She says:
"It's great to be back here closer to home and closer to family and friends. It's great that we don't have to endure the long commutes as well. We can enjoy work and life simultaneously."
Many employees live not only in Sligo but in the surrounding counties of Roscommon, Leitrim and Cavan. The most recent recruit is from South Africa; Courtney Russell relocated to Sligo from London with his wife, who is originally from Boyle, Co. Roscommon.
Niall Murray, Managing Director and Co-owner of Collins McNicholas said the company plans to keep on growing with four new staff recently added to the Sligo team.
"We feel that Sligo is undergoing strong growth in the medical technology, pharmaceutical and IT sectors and companies will avail of the highly skilled graduates that have left the region.

With recent IDA announcements from companies like LiveTiles, Phibro, GW Plastics and E3 Retail to company expansions in Overstock, Abbott and Abbvie, the outlook is positive for Sligo.

We are delighted to be celebrating 20 years in business in Sligo. This is another great achievement for the company and marks how far Collins McNicholas has come since it was founded 28 years ago in Galway."
To mark the anniversary and to raise funds for a great local cause, Collins McNicholas brought all of its staff and a large group of clients to a recent social evening at Markree Castle, which was a fundraiser for the Hawk's Well Theatre.
Antoinette O'Flaherty, Director and Co-owner of Collins McNicholas, said:
"It was a special night to mark our 20 years in Sligo in the spectacular surrounds of Markree Castle. We were delighted to host our many customers, partners and friends who have been working with us over the last 20 years as a thank you for their loyalty and support. Our committed team in Sligo is the backbone of our success in the region, not only the 17 employees we have in Sligo today but also past employees who helped us to build the brand from the office's inception."
The Sligo office which opened in September 1998, started with just two employees – Niall Murray and Antoinette O'Flaherty — who are now co-owners and directors of the company, with Michelle Murphy, the third director who is based in Galway.
Niall Murray, who is originally from Sligo and had a background in recruitment in Dublin, established the Sligo regional office for the then-owners Colman Collins and Val McNicholas. Soon afterwards, he was joined by Antoinette O'Flaherty who had relocated from Dublin to her native Sligo, having worked in the international services sector for a couple of years.
"We rented two offices in the old Hanson factory in Cleveragh before moving to our current location on Kennedy Parade in January 2000,"says Antoinette.
"In those early days, I would never have dreamed that myself and Niall – along with Michelle Murphy – would eventually own the company. Although I think it was always part of Niall's long-term plan!"
Niall, Antoinette and Michelle were the company's three most senior executives when they were involved in a management buy-out (MBO) of the firm in 2015.
At that stage, the entire company had 35 staff and that has grown to 60 today. Some 17 employees are based in Sligo and this number has more than doubled from the eight employees five years ago.
Padraic White, a native of Kinlough, Co. Leitrim has been Chairman of Collins McNicholas since 1998. Colman Collinsstill sits on the Board of Directors and acts as an advisor.
​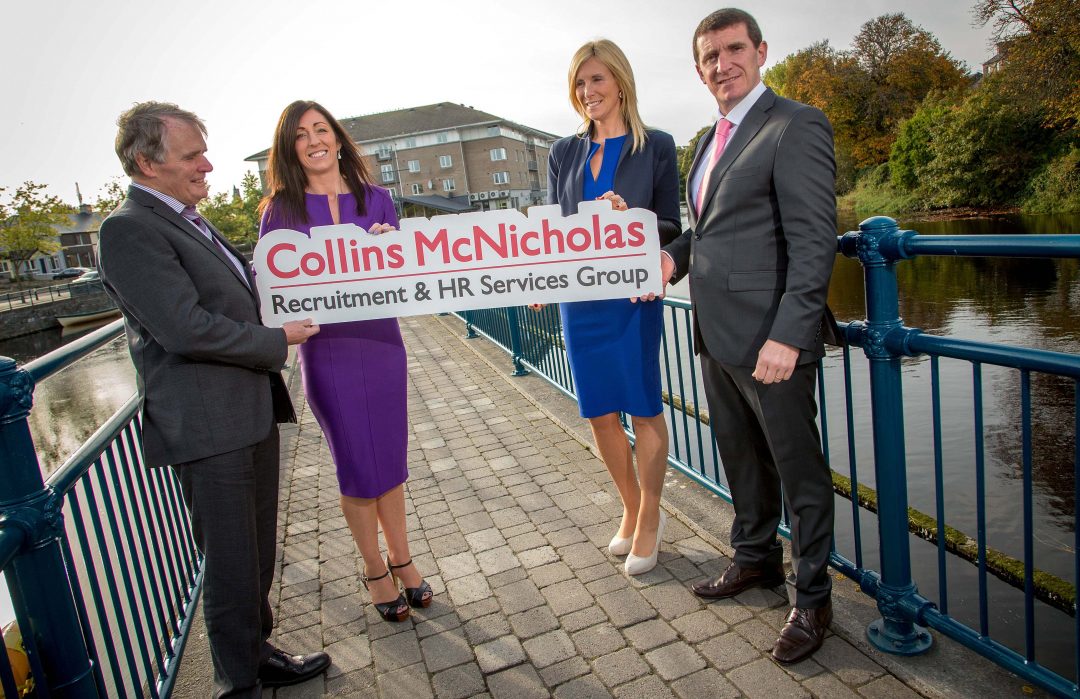 ​