​The attractiveness of the Midwest as a region to set up a world-class manufacturing operation and source top talent across a range of roles was further endorsed this week with the announcement from Edwards Lifesciences to set up a European manufacturing site in Shannon with the creation of 60 jobs initially and further ramping up to 600 employees by 2020.
Director of Collins McNicholas, Michelle Murphy, commented, "This is indeed a truly exciting announcement for the region and for the country overall as it puts Ireland firmly on the world stage in attracting foreign direct investment so when a global leader in patient-focused innovations announces such an investment in the country, and in particular in the Midwestern region, we have a lot to be proud about. This comes just weeks after the announcement by Jaguar Land Rover that they too are investing in the region to create a development centre to be based in Shannon and construction is very much underway at present."
Collins McNicholas' team in Limerick are delighted to partner with Edwards Lifesciences on this exciting new development and are looking forward to working closely with them as they grow their presence in Ireland.
​
March 5, 2018 – Edwards Lifesciences Corporation, the global leader in patient-focused innovations for structural heart disease and critical care monitoring, today announced that the company, headquartered in Irvine, California, USA, has chosen the Mid-West of Ireland for the location of a new plant to manufacture delivery components for its transcatheter heart valve therapies. This new addition to Edwards' global supply network, which includes a similar existing facility in the United States, will initially be configured to support the manufacturing of therapies that enable minimally invasive procedures on patients' aortic, mitral and tricuspid valves, where open heart surgery would previously have been the norm.
"Today is a wonderful day as we mark this very significant regional investment. The arrival of Edwards Lifesciences is a vote of confidence in the Mid-West region as a destination for high-end medical technology manufacturers," said Minister Heather Humphreys. "It will provide even more opportunities for local residents and communities to grow and thrive. My department, through the IDA, is committed to supporting Edwards as it establishes operations in Ireland and as the company continues to develop its innovative heart valve technologies."
Added Pat Breen, Minister of State and TD for Clare, "On behalf of everyone in the Mid-West, I would like warmly welcome Edwards Lifesciences to the region. Their presence here serves to highlight the attractiveness of the region as a destination for progressive, innovation-driven companies. I would like to wish Edwards well in their future operations and assure them of our ongoing support."
Edwards is planning to hire approximately 60 people this year in various functions, such as production staff, engineering and professional management, to work at its initial site located in the Shannon Free Zone. The company plans to complete a new, purpose-built manufacturing facility in the Mid-West of Ireland in 2020. Once the facility is fully operational, the company expects it will employ approximately 600 people. Edwards' investment in the project is expected to amount to approximately €80 million.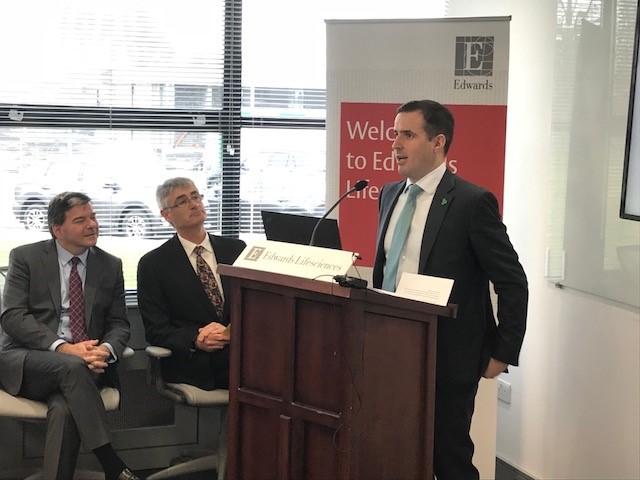 "The addition of a manufacturing location in Ireland is an element of Edwards' global supply strategy to support future growth and reliability of supply, and continues the growth in employment
Edwards has experienced both in the United States and around the world," said Joe Nuzzolese, Edwards' corporate vice president, global supply chain. "Choosing this location included many considerations, but an important one is a talented workforce with experience in medical technology. We look forward to becoming an integral part of the local community through engagement and philanthropic support, and providing educational and professional opportunities for our employees. We are excited to welcome these new associates into Edwards, with the shared goal of serving more patients around the world by delivering high-quality life-saving technologies."
The company expects to begin hiring new employees in Shannon by June. People interested in applying for a position can find out more information and submit applications at:
www.edwards.com/careers/ireland.
"This announcement by Edwards Lifesciences that it is establishing a new manufacturing facility in the Mid-West is terrific news for the region and for Ireland," said Martin Shanahan, CEO of IDA Ireland. "The company's arrival further enhances Ireland's reputation as a preferred location for leading companies in the life sciences sector. Winning investment for regional locations is a key focus for IDA Ireland and this project is an excellent one to secure for this region." This project is supported by the government through IDA Ireland.
​
About Edwards Lifesciences
Edwards Lifesciences, based in Irvine, Calif., is the global leader in patient-focused medical innovations for structural heart disease, as well as critical care and surgical monitoring. Driven by a passion to help patients, the company collaborates with the world's leading clinicians and researchers to address unmet healthcare needs, working to improve patient outcomes and enhance lives.
For information on opportunities and vacancies please contact one of our specialist recruitment consultants on 061 512278 or click the button below:
​
​

michelle.murphy@collinsmcnicholas.ie

​