​Collins McNicholas, Recruitment & HR Services Group, has been named as one of Ireland's best-managed companies under the Gold category in the Deloitte Best Managed Companies Awards Programme.
This is the company's 5th time to be named one of Ireland's top companies for demonstrating superior business performance. The award comes a month after the company was named as one of the Best Workplaces in Ireland in 2018.
"We are delighted to be recognised for this award for the fifth year in a row. It is a testament to the commitment and dedication of our team, and the exceptional level of service they deliver, that has helped us to grow this business over the last 28 years," said Niall Murray, Managing Director of Collins McNicholas.
"We pride ourselves on the long-standing relationships we build with our customers and we would like to extend our thanks to all our customers for their loyalty over the years. Congratulations to all of this year's winners."
The company was recognised on Thursday, 15 March, at an awards gala dinner in Dublin's Convention Centre which was attended by over 1,000 people from the Irish business community.
​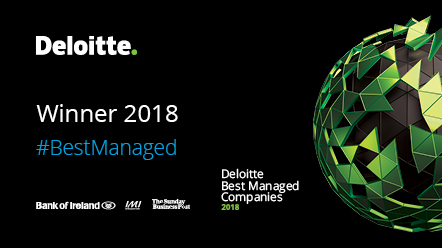 ​
The Deloitte Best Managed Companies awards programme, in association with the Bank of Ireland, promotes and recognises excellence in Irish-owned and managed companies. Now in its tenth year, it is the only awards scheme in the country that considers a company's performance from every perspective.
Deloitte Partner, Anya Cummins said:
"2018 marks the 10th year of the Deloitte Best Managed Companies Awards programme, which has grown from 25 companies in year 1 to 137 in year 10. The programme represents companies from different industries with many industry-specific challenges but also common characteristics such as adaptability, innovation, and ambition. Their stories are the stories of Irish business this past decade, and they are stories of resilience, recovery, and confidence."
Andrew Graham, Director, Bank of Ireland Corporate Banking said:
"The Best Managed programme puts the spotlight on well-managed companies that are generating strong returns, as well as growing their businesses through investment in technology, a customer-centric approach, and commitment to developing leaders of the future. The process and frameworks used by these businesses continue to serve them well in adapting to and succeeding in the dynamic and ever-evolving global markets in which they now compete. We have been really impressed by not only the breadth of businesses but also their ambition, drive and determination. I have no doubt that they will continue to set the benchmark for excellence in the years to come and we wish them continued success."
​
​

niall.murray@collinsmcnicholas.ie

​