​
The CIPD Annual Conference is always an exciting event for HR professionals throughout the country, with new insights, inspiring talks, and opportunities to connect and share knowledge. This year's conference was no exception, with a packed program of speakers and topics. Here are some of the highlights from the conference.
​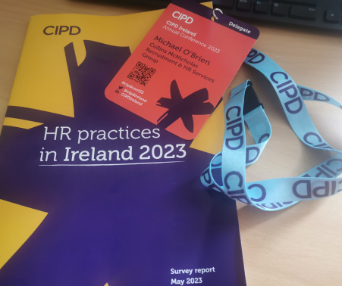 1. Keynote addresses
The conference had some industry-leading keynote speakers who shared their expertise and insights on the future of work, employee experience, and talent management. From Christoph Bonerts talk on "A time of transition in HR" to Olivier Dubuissons thought-provoking speech on exploring the evolution of employee experience and the impact of Chat GPT and AI" there were plenty of inspiring takeaways that had attendees buzzing.​
​​
Mary Connaughton
(Director CIPD Ireland) - HR Practices in Ireland 2023 Report. Dublin: CIPD Ireland
​
​Culture is like a garden, we need to tend it regularly
​
90% of companies are facing skills shortages - this is up from 85%

Employee turnover has increased - the cost of living and accommodation are both having a big impact on retention

Understanding employee's intentions for leaving has never been more imperative

59% believe counter offers are counter-productive

42% plan to increase flexible working over the coming year
​
Neale Richmond
(Minister of State at the Department of Enterprise, Trade and Employment with special responsibility for Employment Affairs and Retail Business and the Department of Social Protection)
​
​Ireland has the fastest growing economy in the EU
​
​
30,000 people relocated to Ireland in 2022 from the EU specifically for work

40,000 people relocated to Ireland in 2022 from outside the EEC specifically for work

Planned review of the critical skills list for the first time in two years

The Government are committed to moving towards a living wage
Christoph Bonert
(Principle Advisor Europe, The Josh Bersin Company)
​
​Embrace experimentation in HR and to start small - it does not have to be perfect
​
​Shift from "Conformity to Individuality" - employees are seeking to be their 'authentic selves' rather than feeling they have to 'conform'

A new model for careers – skills are now influencing careers more than ever

Productivity will become an essential measure of employee success

The Four R Framework = Recruiting, Reskilling, Retaining & Redesign (moving from Organisational Design to Work Design)

Employee Experience = this should be a corporate strategy, not a project (meaningful work, strong management, health & wellbeing, growth opportunity, positive workplace, trust in the organisation)
Ol
iver
Dubuisson
(Future of Work Keynote Speaker | Chairman & Co-Founder Rythmik)
​
​Dream, Believe, Dare, Do
​
​Mental health remains mainstream

Generative AI has become mainstream in less than five months! Build up the experimentation muscle to embrace it.

Must equip team leaders to drive the HR agenda

Focus on the human side of the business
​
2. Panel discussions & breakout sessions
The conference also offered a number of panel discussions and breakout sessions on topics such as "The C-suite perspective – setting the tone at the top", "building new ways of working for high performance", and "building HR systems, structures and capability to deliver future impact". These sessions provided real-world examples and practical tips for HR professionals to apply in their organisations.
Key Messages:
The power of communication - listening to your employees and communicating with them is key, encouraging autonomy and taking responsibility; being 'real' and 'authentic' to your purpose and measuring belonging as opposed to engagement.
3. Networking opportunities
One of the highlights of any conference is the chance to connect with peers, even more so in the post-Covid era. The CIPD Conference offered several opportunities for attendees to network, including roundtable discussions. Personally, I really enjoyed the discussions on the Future of Work and Wellbeing, and it was great to meet some familiar faces and also make some new connections.

​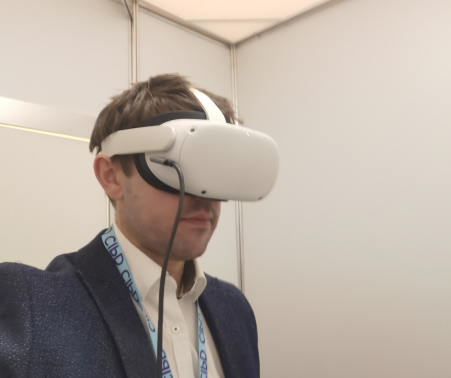 4. Exhibitor showcase
The conference also had an exhibitor showcase featuring the latest HR technology, tools, and services. It was a great opportunity for attendees to learn about new products and services that could help them in their roles. I even managed to get a sneak peek at what you will experience in the first-of-its-kind Metaverse Village demonstrated by Rythmik. What really stood out was the potential for increased engagement in remote meetings.
​
At its core, the conference was a reminder that HR professionals have a crucial role to play in shaping the future of work. As workplaces evolve and change, it's up to HR to stay ahead of the curve and lead the way. We look forward to seeing what the future holds for HR, and we're already excited to attend next year's conference to continue the conversation.
​​
---
​
If you're a professional working in HR or looking for HR opportunities, reach out to a member of our HR recruitment team or send us your CV highlighting your HR experience. You can view our jobs page for a full list of our HR opportunities or continue reading for some of our HR insights. ​
​​​
​

​

​