​As part of our North West Relocation Survey, we talked to Matt Kavanagh, Drug Product Operations Supervisor at AbbVie in Sligo.
​
"Sligo is not a massive city, so I was a bit apprehensive about moving here straight out of college.
But I am really happy I made the move. There's a great social scene and it's easy to make friends. I started working with AbbVie on a Monday and by the Wednesday I was hiking with colleagues.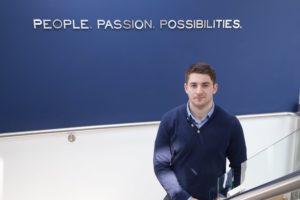 I'm originally from Kildare but I went to college in Galway and loved it there so I was reluctant to leave. But I really enjoy the active lifestyle in Sligo and it's such a beautiful place as well.
The cost of living is more affordable than Kildare and significantly cheaper than Dublin. I have friends in Dublin who are on the same salary as me but have a lot less disposable income.
​
My girlfriend and I are paying €750 a month for a three-bed duplex apartment just a 10-minute drive from Sligo town, while our friends are paying €1,200 a month for a small bungalow in Kilcock, Co Kildare and they have a long commute to Dublin on top of that.
​
Our lifestyle here is significantly cheaper, which gives us more disposable income to spend on the things we enjoy. We can afford to do lots of traveling while still progressing our careers; we wouldn't be able to afford as many trips abroad if we were living in Dublin.
​
Also, I've noticed that there is more room for potential career progression here. I've been working with AbbVie for five years and, in that time, I've been given a variety of opportunities and the chance to advance my career."
​
​
​
​
Collins McNicholas Recruitment & HR Services Group would like to thank Alex Lustig for writing this guest blog as part of our North West Relocation blog series on living and working in Sligo, Leitrim and Donegal.
For job opportunities in the North West, click HERE.