​Recent times have seen more and more people relocating for work. Factors such as the cost of living, social life and family life will impact a person's decision, and it is very hard to get the perfect mix – but Westport, County Mayo may be as close as it gets.
Westport is a bustling town on the west coast of Ireland that has its own unique character and personality. Here are the reasons why many people regard Westport as the best place to live in Ireland.
Lifestyle
The first thing to consider when you are relocating is what your lifestyle will be like. In Westport, you have a town that offers the best of everything. Whether you prefer the vibrant town atmosphere and busy nightlife or the quiet beaches and beautiful landscape, your lifestyle will be one you enjoy, and your evenings are your own to spend how you like.
Commute
No matter where you are currently living it is unlikely your commute can be much shorter than what it would be in Westport. According to the CSO, 65% of people in Mayo spend less than 30 minutes per day travelling to and from work, while the average commute time in Mayo was just over 20 minutes. Having said that, we have heard of people working in Westport's largest employer, Allergan, that have a "zero commute"!
Cost of living
Another major factor in relocating is cost – and you can't complain about the value you get in Westport. Whether it's property prices, food and drink, or childcare the cost of living here is much lower than in any of the cities in Ireland. You can compare it here using Numbeo's cost of living database.
The Atmosphere
Walking through the streets of Westport will no doubt bring a smile to your face. Whether it is a bustling bank holiday weekend or a regular Tuesday afternoon, the warmth you will feel strolling through the streets is unrivalled. The backing track is provided by the musical buskers or the sound of the River Carrowbeg flowing down The Mall, while the locals provide the friendliest of welcomes.
Scenery
With colourful streets, tranquil beaches, towering mountains, and rugged cliffs, there is beauty everywhere you look in Westport. Croagh Patrick and The Great Western Greenway offer some of Ireland's most amazing views of nature. Living here allows you to spend your evenings staring beauty in the eye.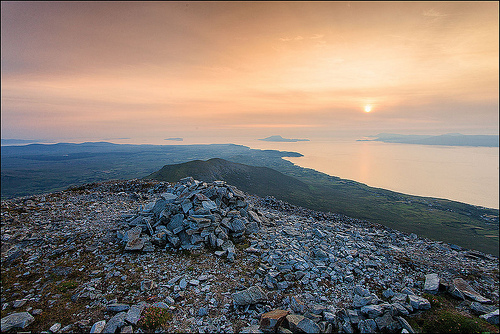 Variation
Move to Westport and choose between different activities, events, and establishments every week. Nature lovers can enjoy weekends strolling on the beach, hiking mountains or cycling coastal routes, while there is no shortage of quality restaurants, pubs and cafes to sample, too. There seems to be something new to do here every week.
History
Westport is steeped in Irish history. Croagh Patrick has been a place of worship since 3,000 BC, while The Clew Bay Archaeological Trail links over 6,000 years of people living here with the present day. It is one of Ireland's few planned towns, designed by James Wyatt in the 1700s and today is one of 27 designated Irish Heritage Towns.
People
As with every town, it is the people who make a place what it is. The local people of Westport are the most welcoming kind around, and they give the town its colourful personality and character. You may move here tomorrow, but it will feel like home immediately thanks to the greeting and support you will get. Everything is said with a smile.
Events & Festivals
As one of Ireland's most popular tourist destinations there always seems to be something happening in Westport. Groups flock to the town for weekends away, and events such as the Street Music Festival or the Arts Festival add an extra buzz. If you're looking for live music, food shows or general craic, you'll find it in Westport pretty quickly.
Community
Westport is a very proud town with an extremely tight community. Towns don't preserve their character and beauty without the work of their people, and in 2018 it was named Tidiest Large Town for the second year running. There are GAA, rugby, football and basketball clubs in the area that binds the people together, too.
In 2012, The Irish Times also named Westport as the best place to live in Ireland. So if you won't take our word, maybe take theirs!
​
​
​